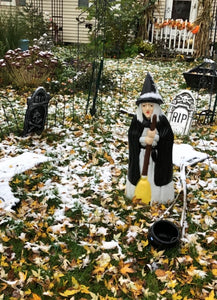 Three weeks into November I'm doing a throwback to Halloween because October 31 was an unfortunate fast forward to January's weather and we got shorted on enjoying the autumnal afterglow.  And I am still as disgruntled as the gal below who had to deal with her broom icing up! "On Halloween?!?!" croaked the disgruntled old witch as she surveyed her favorite haunt with dismay. No, we didn't go trick or treating like we did for many years. We were curled up in our jammies eating Halloweenies and Jack-o'lantern pizzas and sipping Witches Brew wine while watching Hocus Pocus. It's not...
---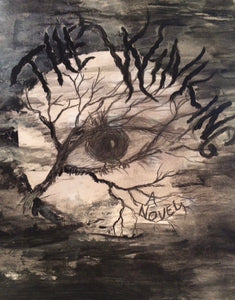 I'm delighted to announce that my Halloween novel, a spin-off of Amber's Hallowe'en, is coming out next fall. Above is a prototype of the cover I played around with.  "The 'Winking" is the tale of a hoodwinking, an elaborate hoax with shades of murder, madness, and mayhem. It takes place in 1992, 300 years after the Salem witch trials. The most famous place that carried Amber's Hallowe'en was The Salem Witch Museum in Salem, Massachusetts. I'm honored that this place of history has a place in my book's history. And...the same witchcraft that is told of in the museum's presentation...
---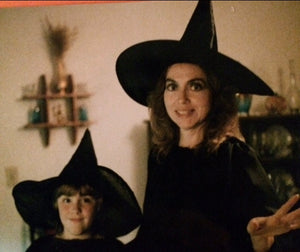 Hello!  This is the first post in my section of the shop blogs, Yvonne's Garden.  I'm Yvonne, aka Shopmom, and I am excited to share my interests here.  The blog won't just be about gardening, although that will be part of it, but the garden is rather a metaphor for all the things I have grown and made beautiful in my life. One of my favorite things is Halloween, and it unfortunately is such a fleeting time—how did it get to be the end of October?  I had many blog posts planned but time ran out.  But I wanted to...
---